Thursday, July 21st, 2011
Apple hails 10.7 Lion as the "best version of OS X yet," with over 250 new features and a revolutionary new installation process.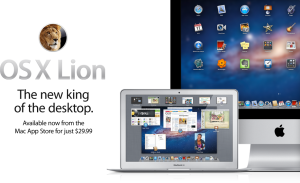 During this summer, NeedMacHelp will be offering our Upgrade to Lion Special.  We will upgrade your computer to Lion* and bring you up to speed on all the new features. No DVDs or a trip to the store necessary. For users not running at least Mac OS X 10.6.8 Snow Leopard (the minimum requirement to run Lion), we will help advise you on updating or upgrading your system.
Best of all, the whole appointment is 10% off.
Call 646-924-2727 now to schedule an appointment with one of our Apple Certified Macintosh Specialists!
*OS X Lion is $29.99, payable directly to Apple.