Envelope MacBook Sleeve
I've been looking for a basic (but not unattractive) laptop cover to protect my MacBook Pro, but everything that I've found has a bulky, clunky design.  I finally found exactly what I've been looking for in this envelope laptop sleeve by designer Christiane Hoegner.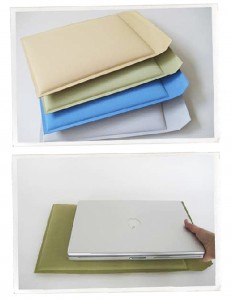 The envelope has lightweight shock-absorbing high-density foam packaged in colorful fabric.  Simple, elegant and the right size for my MacBook and my bag.
Tags: Laptop Sleeve, MacBook