Need Mac Help's Top 10 iPhone Apps – App #9
I must admit that as far as games and puzzles go, I am a fan of the paper edition of the New York Times crossword, so I polled our techs at Need Mac Help to get their vote on the best and most addictive game App for the iPhone.  The clear winner is our App #9, Tatomic.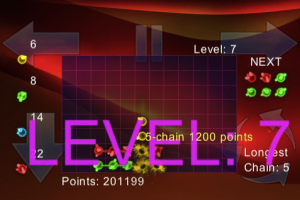 Tatomic is an action puzzle game with great graphics and 3 different game modes: Critical Mass, Radioactive Survival and Puzzle Mode.  It has a good degree of difficulty so even the free version, Tatomic Lite, which has 10 levels instead of 30, will keep you playing for quite a while.