Need Mac Help's Top 10 iPhone Apps – App #4
Next up on our list of iPhone Apps is Delivery Status by Junecloud.  This App is particularly useful right now to help track all those holiday packages and year end purchases.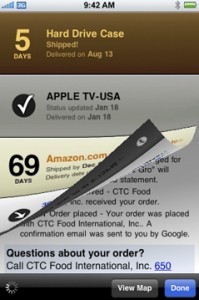 You can track shipments from UPS, FedEx, DHL, the USPS among others.  Orders placed with Amazon, Apple and Google Checkout can be tracked before they even ship.  With the free Dashboard widget (or any web browser), you can easily sync all your tracking numbers.
Tags: App, Delivery Status, iPhone