Need Mac Help's Top 10 iPhone Apps – App #3
Next up in our list of (currently) favorite (and in no particular order) Apps, is Beejive IM.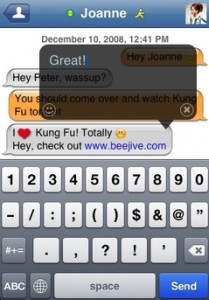 At $15.99, Beejive is probably one of the more expensive Apps that we like, but it's worth every penny.  For starters, it's an incredibly stable IM application, probably the most stable one out there.  It also has a very attractive and easy-to-use interface.  And it works with almost every IM network out there — AIM/iChat/MobileMe, MSN/Windows Live, Yahoo!, MySpace, GoogleTalk, ICQ and Jabber (no Skype yet).
One of the best features is the ability to participate in multiple chats simultaneously AND move back and forth between them with ease.