Need Mac Help's Top 10 iPhone Apps – App #2
Facebook is iPhone App #2 on our (non-exhaustive and in no order of importance) list of favorite Apps.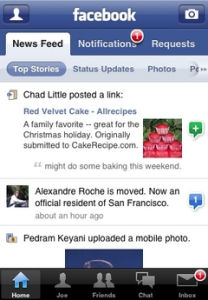 All the main Facebook features are here.  You can view newsfeeds, write to your friends, view your wall and the walls of your friends, and view friends' photo libraries.  As would be expected for an application intended for use on a mobile device, the Facebook iPhone App features very nifty mobile features like the Facebook Chat IM service (you can chat with your friends for free!) and fast photo uploading.